Structural Investigations
We have many years experience in Structural Investigations and Structural Repairs.
We offer a 'start to finish' service; if you have potential structural problems, contact us and a structural engineer will visit your premises, complete an inspection, and prepare a report.
If necessary, we will then complete a full investigation, let you know what is involved in rectifying the problem, and let you know how much it will cost to complete the structural repairs. If you are happy with our quote, we will complete the remedial work in a professional and timely manner.
The following photos show some of the structural repair work we have recently completed at Huddersfield College. We carried out substantial structural repairs to two 9-story blocks that had experienced structural damage caused by thermal movement: -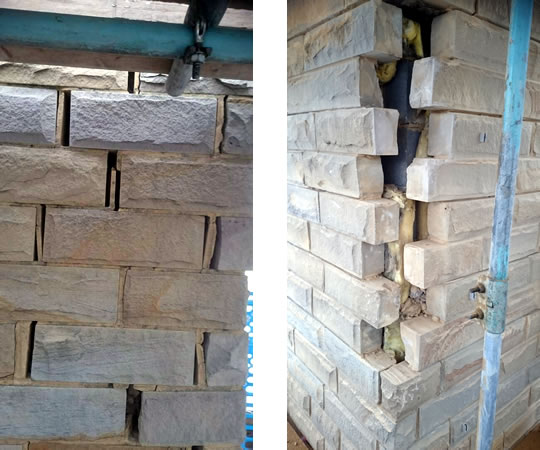 The photo to the left, above, shows the original structural damage to the sandstone caused by thermal movement. The photo to the right, above, shows the start of our repairs, where we pulled down the corner ready for repairing.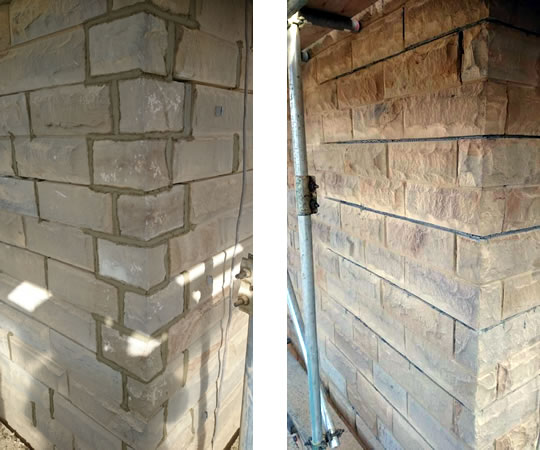 The photo on the left, above shows the corner under repair. The photo on the right shows the stitching bars in place with resin bond used to prepare it for re-pointing.